WE ARE A TOP RATED ASPHALT COMPANY IN TOWN
Superior Asphalt Services
LEARN MORE
GET A QUOTE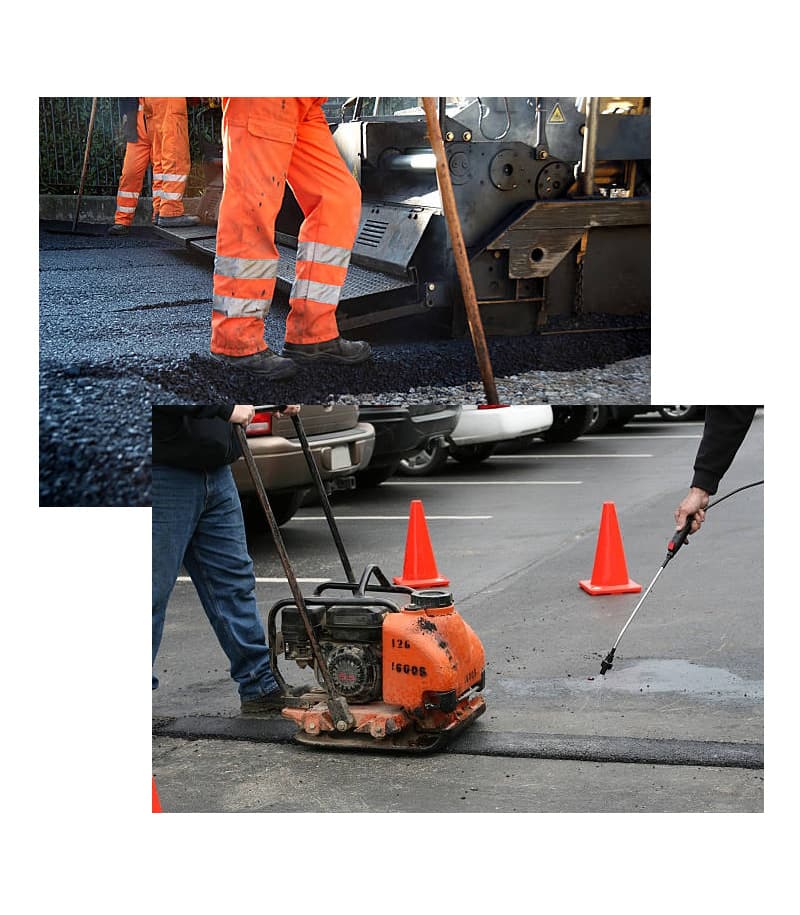 Highly Experienced In Both Commercial And Residential Projects
Superior Asphalt Services is a full-service asphalt paving and maintenance company committed to providing superior customer service, workmanship and professionalism.Our experienced team of professionals will provide you with the best solutions possible.
Best Reasons to Coat Your Driveway:
Prevents Water Penetration And Gas & Oil Damage
Seal Coat Prevents Oil & Gas Damage
Sand Based Sealer - Better Traction
Superior Asphalt Services is Missouri's trusted, veteran-owned
paving company. We take pride in our world-class quality work on
asphalt paving, asphalt striping and sealing, pothole repairs, and
other concrete projects for homes, businesses, and public
institutions at an affordable price!
Superior Asphalt Services is a Springfield, Missouri-based paving company serving families, businesses, and public institutions since 2020. Over its 12 years (and counting) in the industry, Superior Asphalt Services has helped thousands of clients with our excellent asphalt sealing services in Columbia, MO, and wowed business owners with its expert asphalt striping services in Springfield, MO.
The company was founded by Mitchell Stewart, a Veteran Marine who discovered his passion for the construction world after his time in the Marine Corps. He particularly found his talent and built his expertise with asphalt. Since then, he has made it his mission to help families and companies create stunningly smooth asphalt pavements that promote ease and comfort while improving safety and efficiency for the people.
In Superior Asphalt Services' 12 years in the business, it has established its name as the most reliable asphalt sealing company in Columbia, MO, with professional asphalt striping and pothole repair services and trusted concrete company all over Missouri.
What sets Superior Asphalt Services apart from other concrete companies in Springfield, Missouri, Mitchell Stewart's dedication and utmost commitment to every project as though they are his own pavement, garage, or parking lot. He has a hands-on approach to every single one of his client's requirements, with tedious attention to detail and not accepting anything less than perfection, no matter the size of the contract.
Superior Asphalt Services is your partner in asphalt striping and sealing, pothole repair, and other concrete-related works. Our wide range of affordable service packages includes:
Asphalt Paving. Our expertise lies in asphalt paving, and we can accommodate any of your requests, be it from commercial or residential establishments.
Seal Coating. Nobody wants a brittle, patchy asphalt surface. Our asphalt seal coating services protect your pavements from accumulating cracks from daily wear and tear. Our thorough seal coating prevents ice and water from degrading your asphalt and keeps it safe and smooth for vehicles and people at all times.
Crack Sealing. The last thing you want to happen to your asphalt pavement is for moisture and unwanted debris to infiltrate it. Our crack sealing services use high-quality adhesive sealant on the surface to keep it in its best shape.
Line or Asphalt Striping. Keep your parking lots in proper order and manage traffic flow within the vicinity with our professional line striping services. We use the best traffic paint that resists traffic markings, allowing them to direct car flows for a longer time. We are the best Concrete Companies for all your Asphalt needs so stop looking for another 'Asphalt Striping and Sealing Near me' because we're here for you!
Concrete Maintenance. We can all chorus to "prevention is better than cure." And it applies just as well to concrete. If you want your concrete floors and surfaces to always be at their best state, our concrete maintenance services cover all of your requirements, from preventive maintenance to reconstruction. We highly recommend attending to any concrete damages (even the small ones) before they get worse and recoating the surfaces in high-traffic areas such as patios, walkways, and driveways.
Pothole Repair. Your asphalt pavement's worst enemy is water. Whenever these elements, be it in any form, infiltrate your asphalt surface, they will soon create damage and initiate degradation. Do not under's no turning back from them. These openings on your asphalt pavements allow more water in, which hastens the damage over your garage, walkway, and parking lots.
Make the best decision for your residential or commercial establishment today by hiring a professional asphalt sealing, line or asphalt striping, pothole repair and maintenance, and concrete maintenance services company for all your pavement needs!
We are ready to help you with your pavement needs in Columbia, MO, Springfield, MO, and nearby locations. Contact us for any of your inquiries!
Affordable & Reliable
We'll pave the way to a lasting relationship.
Best Asphalt Paving services in Missouri Call 417-292-8421 to
discuss with us.